Welcome to the Newcastle Guitar Orchestra
Founded in 2012, we aim to promote the enjoyment of orchestral music for classical guitar. If you play classical guitar and can sight-read a simple line of music then you are most welcome to join. We currently meet every Wednesday evening in St. John's Church in Kingston Park (near the Kingston Park metro).
Please email or call Dave Curry if you would like to join. He will provide access to the Members' Area where you can download the music and mp3s to practice along to.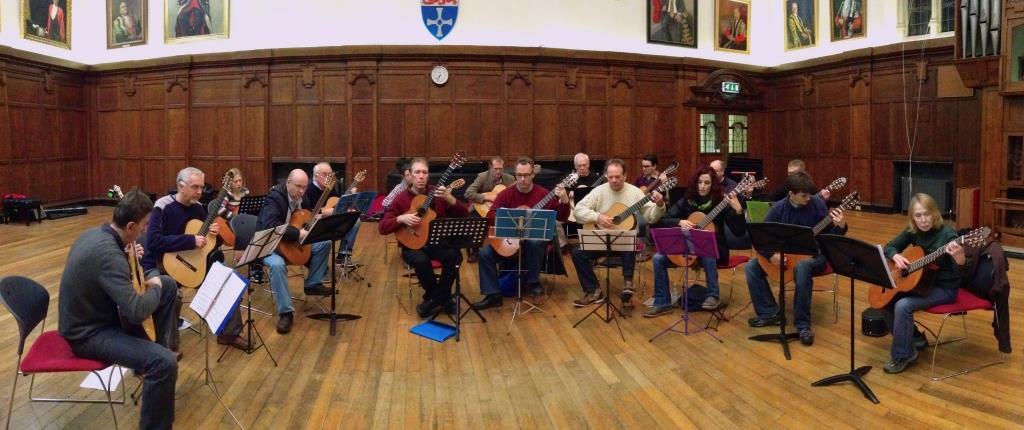 New music for 2021
| | | | |
| --- | --- | --- | --- |
| Sergei Prokofiev | Troika | | |
New music for 2020
| | | | |
| --- | --- | --- | --- |
| Maurice Ravel | Pavane | | |
| Stephen Goss | Gnossiennes | | |
| Claude Debussy | Clair de Lune | | |
| | Rêverie | | |
| Gabriel Fauré | Sicilienne | | |
Music for 2019
| | | | |
| --- | --- | --- | --- |
| Fabian Payr | November | | |
| Sebastien Vachez | Suite Francaise | | |
| Andrew York | Attic | | |
| Vincent Lindsey-Clark | Pulsar | | |
| Ann Carr-Boyd | Two Australian Scenes | | |
| Alberto La Rocca | La Dame a la Licorne | | |
Music for 2018
| | | | |
| --- | --- | --- | --- |
| Arcangelo Corelli | Adagio | | |
| Castelnuovo-Tedesco | Concerto in D Major | | |
| | Romancero Gitano | | |
| Ennio Morricone | Cinema Paradiso | | |
| Astor Piazzolla | Milonga del Angel | | |
| | Libertango | | |
| Henry Purcell | Chacony | | |
Music for 2017
| | | | |
| --- | --- | --- | --- |
| Joaquin Rodrigo | Fantasia para un Gentilhombre | | |
| | Concierto de Aranjuez (Adagio) | | |
| Edvard Grieg | Holberg Suite | | |
| Antonio Vivaldi | Concerto in D Major RV93 | | |
Music for 2016
| | | | |
| --- | --- | --- | --- |
| Maurice Ravel | Menuet from the Tombeau de Couperin | | |
| Ferdinando Carulli | Petit Concerto for Guitar op. 140 | | |
| Antonio Vivaldi | Concerto for Mandolin RV425 | | |
| R. Vaughan Williams | Five Variants on Dives and Lazarus | | |
Music for 2015
| | | | |
| --- | --- | --- | --- |
| P.I. Tchaikovsky | Andante Cantabile | | |
| Gabriel Fauré | Pavane | | |
Music for 2014
| | | | |
| --- | --- | --- | --- |
| Peter Maxwell-Davies | Farewell to Stromness | | |

Parts are available to download from the Members Area
Audio
Milonga de Angel - with Giulio Tampalini
Example rehearsal - Fantasy on Two French Carols by Andrew Forrest (2nd half)
Contact Information
Newcastle Guitar Orchestra
c/o David Curry
Woodlands
Fourstones
Hexham
NE47 5DL