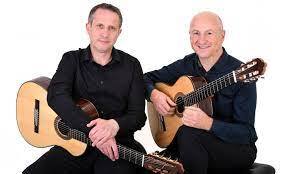 Eden Stell Guitar Duo live at St. Mary's Cathedral
Saturday 01 April 2023
19:30 to 21:30
This is a wonderful opportunity to hear an enchanting programme from one of the world's leading guitar ensembles, with music by Mozart, Scarlatti, Mario Castelnuovo-Tedesco, Roland Dyens, Andre Jolivet, Daniel Lesur and Maurice Ravel.
Likened to a 'miraculous single guitarist blessed with an impossibly wonderful technique and an exceptionally delicate touch' (The Observer), the Eden Stell Guitar Duo have performed at venues and music festivals around the world, including Germany, France, Netherlands, Belgium, Austria, Sweden, Spain, Portugal, Italy, Romania, Turkey, USA, Canada, Mexico, South and Central America and Australia, as well as numerous radio and TV appearances on ITV, BBC, and European and North American networks.
Mark Eden and Chris Stell have performed concertos with the Prague Chamber Orchestra, International Philharmonic and Philharmonic Baden-Baden. In 2019 they were invited to give a special performance of Joaquin Rodrigo's Concierto Madrigal in the Stadttheater Aschaffenburg in the presence of Cecilia Rodrigo.
"In every respect the performances and recording are of the highest quality. The Eden Stell Duo are one of the best duos around. This is a land mark recording on the guitar's map." — Gramophone
"Impressing further with their meticulously precise ensemble." — The Times
Tickets £12 on the door or in advance at:
Eden Stell Guitar Duo Tickets, Sat 1 Apr 2023 at 19:30 | Eventbrite